Blue Dart India headquartered in Mumbai is an integrated express package distribution company that has an extensive network covering more than 33, 758 locations serving in more than 220 countries. The company has a state of art technology which helps to track and trace the courier location from any part of the world. It also supports time definite morning deliveries through night freighter flight operations.
It is the only company which invested a large amount on technology infrastructure which include Track Dart, Mail Dart, Mobile Dart, Internet Dart, Shop Track, Pack Track, Ship Dart etc. You can also schedule a pickup, find a location for delivering the courier, and can also find the price online. The company got the largest private computer networks in India having 5,498 computer terminals which enhances the communication speed. You also got an automated call distribution system for quick response and support to customers.
Blue Dart Tracking India:
Customers can track their shipment from anywhere in the world using Blue Dart Online Courier Tracking Tool and following are the steps to track the status of Blue Dart courier.
For tracking the consignment, customers need to open the Online Tracking page.
Now you need to enter the Way bill Number or Reference Number in the field given to you.
You can also enter multiple shipment numbers separated by comma and the snapshot of the tracking is shown below for your reference.
To continue the tracking process, you can click on Go button and the tracking process continues returning you the exact location of your courier.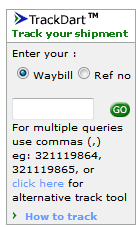 If you have any queries about tracking or if you would like to contact Blu Dart Courier Tracking Contact Number then you can get in touch with Blue Dart Customer Care India and get your queries solved. You can also send an email to track@bluedart.com for knowing more about tracking the shipment.
If you would like to visit the nearest office then here is the List of Blue Dart branches in India. For more details and latest information about the company, you can refer to the company Website.