Reliance Courier Tracking India, Tracking Number
Reliance Courier is a Jammu based courier company delivering courier and cargo services to customers present nationally and internationally. The company has many dedicated professionals ensuring that the courier and cargo reach their destinations on time. The main goal of the company is to satisfy the customer to make them believe that the company provides quality service to its customers.
The services of the company are specifically designed which meets the needs of domestic market addressing all commercial and non-commercial requirements. Local Courier, Distribution Services, International Services, Retail Distribution Services etc are different services provided by the company.
Reliance Courier Online Tracking Process:
Online Courier Tracking is the best way for customers to track their shipment online at any time. You need not call customer care for knowing the location of your consignment. Following are the steps for tracking your goods:
Customers to know the online tracking, you need to click Here: http://www.reliancecouriers.com/ and visit the tracking website.
You need to enter the AWB Number or POD Number which is the Tracking Number in the required field in the website.
Then click Search button to search the shipment and wait for a moment still searching process comes to an end.
You can track multiple consignments at the same time where you need to separate with comma for each one. The snap shot of the tracking form is shown below: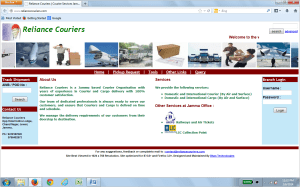 If you have any queries with tracking of shipment, you can call Reliance Customer Care Number and know the details. To know more details about the company and its courier services, you can visit the company Website: http://www.reliancecourier.com and know the details.