Trackon is one of the major courier company in India which got its corporate identity in the year 2002 under the name Camcour Couriers Pvt. Ltd. The company started its services first in Delhi and Mumbai which mainly introduced as an intra city operator for bulk mailers for big corporate and private banks. For customers to remember the company name easily, the name was changed to Trackon Courier Pvt Ltd in 2004. The company has its corporate office in New Delhi, regional offices in 11 states, 198 company owned area offices and had more than 1400 associates in India. Customers can select the destinations, convert their weight and are offered with many other services through their website. You can also track your courier online by visiting the company website.
Trackon Courier Online Tracking:
Customers had the facility to track and trace their courier online instead of repeatedly calling customer care to know the exact location of the courier. Following are the steps customers need to follow for tracking the courier:
For tracking the courier online, customers need to refer the Online Tracking.
In the tracking page, customer has to select the country name from drop down list option.
The Tracking Number has to be mentioned in the Track No field  shown below.
The snapshot of the form is shown below for your reference.
To continue the process, click on Track button.
Customers can search for multiple consignments by separating each one with a comma.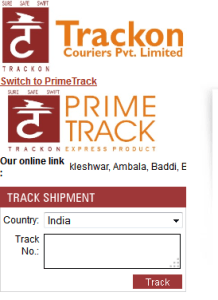 For more queries about the tracking the courier, you can get in touch with Trackon Customer Care and get your issues solved.